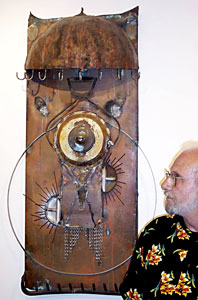 Charles William Fulmer – artist, teacher
b April 11, 1942 KY - d November 2, 2014 CA
Fulmer created, collected, and celebrated art for three decades while living in Casitas Springs, just north of Los Angeles. Working in a restored vintage barn, Fulmer produced oil paintings, stone sculpture, direct metal pieces, photo-works, and assemblage art as his muse directed. As a youthful outdoors-man Fulmer fashioned his own knives and munitions. The recurrence of fish woven through many of his works attests to a perception of man's relationship with nature, and nature's link with the past, present, and future. A consummate storyteller, Fulmer's work is most often narrative, speaking through the formalities of the medium to bring us the message of what it is to be human. The majority of his works pay homage to the female, in both form and essence, a pure visual lineage passed unbroken from the time of ancient man. To worship the mystery and pleasure, revel and cavort with the corporeal, and finally find solace and inspiration in the presence of women. Traveling this creative path deeply encoded in our DNA, his art speaks of mothers, aunts, daughters, wives, models, and women of note.
Mentor to many, Fulmer truly demonstrated a vocation for stoking the innate, creative spark within others. Twenty five years teaching studio fine art in Bel Air, CA perpetuated a flow of incredibly beautiful artworks created by gifted and insightful artists and students.  A true renaissance man, Fulmer enjoyed cooking for family and friends, primitive desert camping excursions, music, and sharing the moment. He created a treasure trove of art that tells stories of women, dogs, life, and the world we love. First listed in art references in the 1980's for his then completely avant-garde, hand-manipulated photo-works he earned dual master's degrees that decade in Fine Art and Photography from California State University Northridge. Fulmer had the unique opportunity to work as a teaching assistant to his mentor in art, Hans Burkhardt. Greatly influenced by Burkhardt, and by association his mentor's mentor Arshile Gorky, Fulmer maintained the true lineage of modern art. He often referred to the dialog of art. Many of Fulmer's deepest explorations involve the reconstruction of a long past, far away artist's work, that in turn interpreted yet another, previous artist's work. A story only the artists can completely follow, but the results are electrifying if you know what to look for, and just plain pretty if you don't.